Grandma May Ng holds her great-grandson Penuel. (photo: Melody Ng)
I don't know that I have ever paid much attention to the
legend behind the Moon Festival, but I sure love moon cakes. I haven't bought them in years, because my grandmother always sends me a box of my favorite — lotus seed paste (a thousand times yummier than the usual red bean!) with one egg yolk per cake — from a good bakery in Los Angeles.
Last September, she gave me my box in person because I was in LA for my cousin's wedding and spent a few days with her. I brought the moon cakes back to Minnesota, ate one right away, and gobbled up the second during the Moon Festival. The other two are still in my refrigerator. I haven't been able to eat them.
My grandmother died last October, at the age of 96, just a couple weeks after the Moon Festival. Those two moon cakes are the last I'll ever have from her — from her thoughtfulness and generosity. Seeing them each time I open the egg compartment where I stashed them makes me happy.
My husband says it'd be terrible to my grandmother to let them go bad. It's true. She reused paper towels and never wasted food (and moon cakes are quite the luxury at $33 for a box of four). But I'm not sure moon cakes can go bad. In the past, I've kept them to savor over many months, and the ones my grandmother gave me a year ago still look just fine. That's not a quality I'd want in most of the food I consume, but, with moon cakes — especially my two remaining moon cakes — I guess shelf-life longevity is just fine.
I'll break out one to share with my two- and four-year-old tonight. They can recall memories of their Bak-Po, I'll tell them some new stories, and we'll talk about how she loved us so much that she's providing us moon cakes, even when she's no longer here with us.
And just in case the kids want more moon cakes, I'll stop by the store on my way home today to get a new box before they're gone for the year. Because my last moon cake's staying in the fridge.
---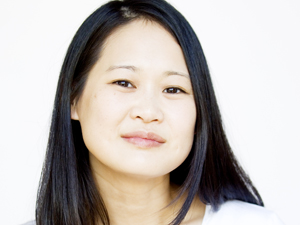 Melody Ng lives in Minneapolis, Minnesota and is an analyst for APM's Public Insight Network.
We welcome your reflections, essays, videos, or news items for possible publication on the Being Blog. Submit your entry through our First Person Outreach page.